Brangus cattle are a cross between two popular beef cattle breeds: Brahman cattle and Angus cattle. While each breed is excellent on their own, the combination results in a superior beef cattle breed.
This is a near-perfect combination for any farming operation.
Where Does The Brangus Cattle Breed Come From?
The Brangus breed was developed in the 1930s and 1940s in the United States by crossing Angus cattle with Brahman cattle. Both the USDA and private breeders worked on the development of the breed.
Crossbreeding between these two breeds was performed to marry the hardiness of Brahman genetics with the superior carcass qualities of Angus beef in order to produce a new and improved beef cattle breed.
The resulting cross was wildly successful, and Brangus cattle were eventually standardized for optimal performance resulting in 5/8 Angus and 3/8 Brahman blood.
The American Brangus Breeders Association was founded in 1949 and was later renamed the International Brangus Breeders Association as Brangus cattle began to be exported to many countries around the world including Canada, Mexico, Argentina, and Australia.
Brangus cattle do the best in hot and humid climate conditions as offered by the American southwest including Texas, Louisiana, and Oklahoma which boast the highest numbers of Brangus cattle.
Two types of Brangus cattle exist, Black Brangus and Red Brangus. The Red Brangus is undoubtedly the more popular of the two for sub-tropical and tropical climates, and the International Red Brangus Breeder's Association was created as a regional branch of the IBBA.
The Red Brangus has an easier time dealing with extreme sun as their red hide reflects sunlight, allowing for foraging while Black Brangus and other types of cattle may seek out tanks or shade.
Both Red Brangus and Black Brangus cattle have similar performance in terms of carcass yield and quality. Black Brangus cattle are often preferred in northern and cooler climates.
Brangus Cattle Breed Characteristics
Official Breed Name
Brangus Cattle
Other Names
Hybrid Bos (primigenius) taurus/indicus
Scientific Name
Bos taurus
Origin
United States
Appearance
Solid red or solid black body with skin folds on the neck and belly
Naturally polled with droopy ears
Dark skin pigmentation and sleek coat
Brangus bulls have a distinctive hump
Calf Weight
70lbs to 75lbs
Mature Cow Weight
1100lbs to 1200lbs
Mature Bull Weight
1800lbs to 2000lbs
Ready To Breed
14 to 15 months
Gestation Period
283 days
First Calvings
Around 2 years
Time to Slaughter
14 to 18 months
Carcass Weight
400lbs
Expected Lifespan
15 years
Productive Lifespan
12 to 14 years
Known For
Hardiness and disease resistance
Meat marbling and superior carcass
Excellent fertility and easy calving
High-quality milk for calves

Weaknesses
Tendency to jump fences
Mothers are aggressive in protecting calves
Climate
Exceptional performance in hot and humid climates but have the adaptability to cold climates and can grow a coat to keep warm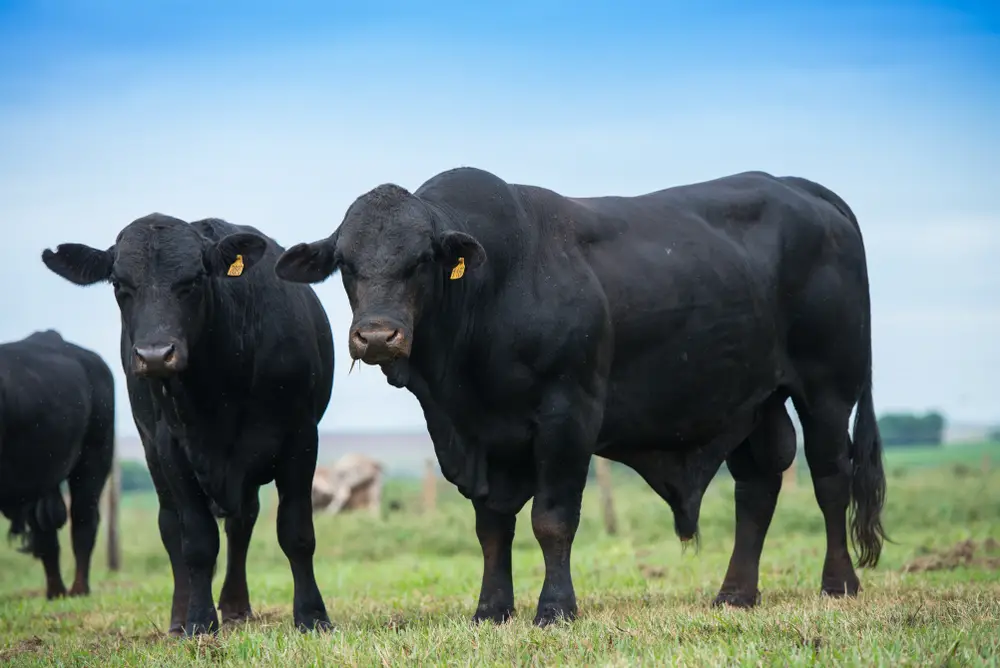 What Is So Special About Brangus Cattle?
Brangus cattle are profitable beef cattle offering tender meat that has less excess fat and is usually premium grade.
Up to 85% of Brangus cuts are USDA choice. The size of carcass obtained from Brangus cattle makes it desirable for packers, and consumers want Yield Grade 2, which Brangus cattle offer consistently.
Brangus calves are consistently sold at auction for top prices in national markets and are known for their hybrid vigor while Brangus cows produce excellent milk for their calves, which are weaned at higher weights than most other breeds.
Unlike Angus cows, Brangus cows gain weight in the warmer months and outperform Angus beef in the Warner-Bratzler Shear Force Test, achieving 97% tender rating against 94%.
The excellence of Brangus cows and their superior mothering abilities, milk production, high fertility and calving ease all lead to healthy calves and an ever-growing herd.
Why Should I Raise Brangus Cattle On My Farm?
Brangus cows are highly fertile and excellent milkers
Excellent foragers and will easily put on weight eating grain or grass
Brangus cows have outstanding maternal instincts passed from Brahman cows
Inherited the hardiness and disease resistance of Brahman cattle
Excellent temperament is standard in this breed of cattle
Calves have a higher weaning weight than many other breeds increasing their survivability
Pigmentation of their skin and coat protect them from sun damage and cancer
Commercial cattlemen will appreciate the Brangus female as she can produce marketable steers and replacement heifers readily
Brangus cow herds have uniformity in size at maturity for market
Great for small farms as Brangus can thrive without specialized conditions and can do well on pasture