You can definitely move a cow in a horse trailer. Simply remove the center divider and ensure you aren't overloading your trailer's certified axle and floor weights. Note: Your cow will quickly become agitated if it's traveling backward or cannot see outside.
Hauling livestock requires a reliable and robust trailer with durable gates, the ability to see ahead and reliable, comfortable floors. The walls should prevent animal bruising and facilitate easy cleaning as cows are messy animals!
Essential Features For A Livestock Trailer
Hauling your cattle around? Look out for these features:
Floors
Cattle trailer floors should be easy for cattle to walk on without slipping, so rubber floors or cleated floors are very popular. Aluminum floors are another option but should have a non-slip covering or coating.
Gates
The rear gates can be single or double, depending on the width of the trailer and the cattle involved. These gates should have a slam latch mechanism. Center gates can divide the trailer into front and rear sections if desired.
Escape
Door
An escape door can be a lifesaver if your cattle become nervous or agitated while you are inside the trailer with them.
Extras
You should check to see that standard features such as a galvanized chassis, deck rails, heavy-duty dividing and loading gates, ventilation, and LED lighting are included. A spare tire should also be present.
Useful optional features are electric brakes and torsion axles. Dexter axles are very highly rated. Fourteen or even 16-ply tires are fitted to trailers according to their size, although 10-ply tires are standard on lighter ones.
The sky's the limit if your budget allows it. Some of the more luxurious trailers even feature living quarters for expeditions and events. Check the Sundowner or Featherlite range to see what's possible.
Best Types of Livestock Trailers
1. Bumper-Pull Trailers
Bumper-pull stock trailers are also known as "tagalongs" and are the most basic kind of livestock trailer. As the name suggests, you hitch them to the vehicle towing the trailer. They go up to 7.5 feet wide by 10 feet high.
Most bumper-pull livestock trailers are lightweight and compact. They're ideal for hauling calves, smaller horses, ponies, goats, pigs, or sheep over shorter distances. Their smaller size makes them easy to manhandle, attach to your truck, or maneuver when reversing.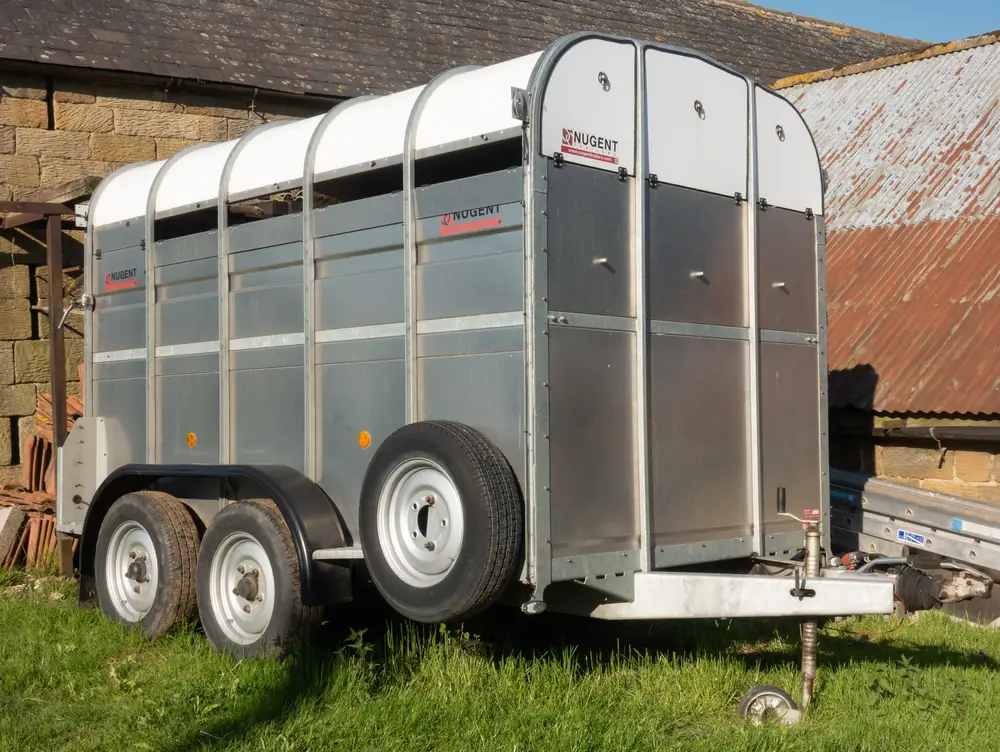 These trailers are cheaper than the larger and more expensive gooseneck trailers. Their low weight also means they are cheaper to tow in terms of miles per gallon.
While the small size might be advantageous for some ranchers, it is a disadvantage for others. You are limited when it comes to transporting multiple or larger animals. The ride is also bumpier and less steady than the larger gooseneck trailer, which might lead to cattle becoming stressed or, even worse, panicking during the journey.
2. Gooseneck / 5th Wheel Stock Trailers
Gooseneck livestock trailers are the most common heavy-duty choice for cattle farmers with larger animals or wanting to move animals in bulk. Their width is typically 8 feet while lengths range up to 36 feet. Some companies will build bespoke ones even longer, although some may violate the dimension laws of neighboring states.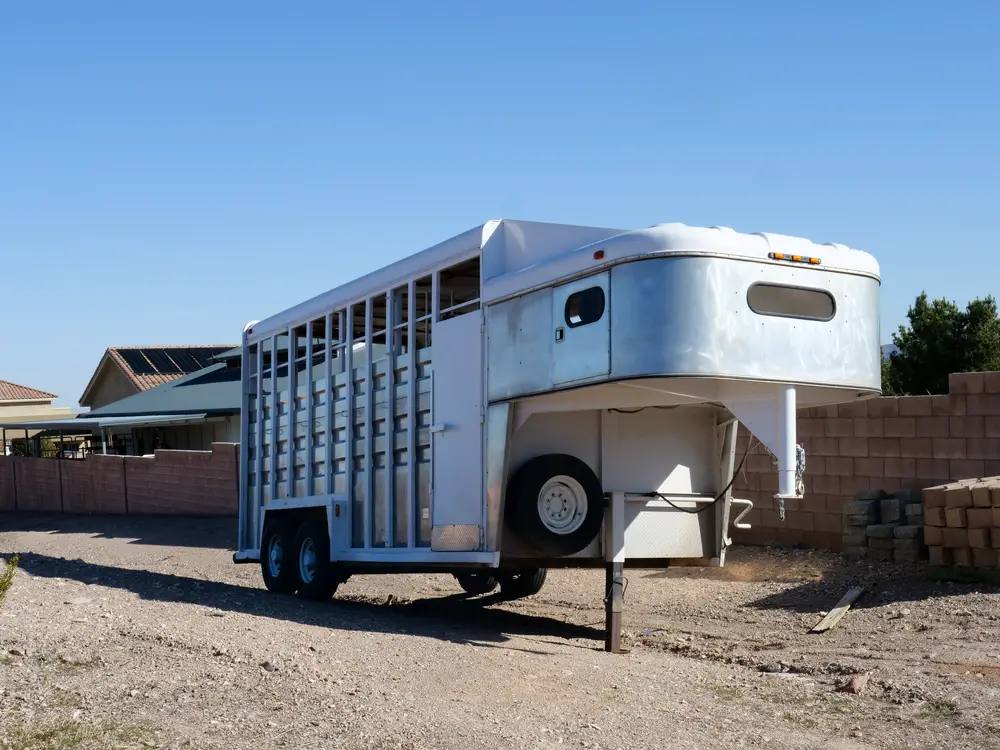 Gooseneck trailers are ideal for longer distances as they create safer and more robust traveling conditions. However, with the larger size comes more expense, not just when purchasing the trailer but also with your gas mileage. This extra cost may be offset by the ability to haul additional animals in one journey.
Can You Move a Cow in a Horse Trailer?
It's generally fine to move a cow from farm to farm in a horse trailer. Adult cows are wider and heavier than adult horses but not as tall. Do check the dimensions of the trailer and its axle load weight capability.
Horses tend to be more docile and straightforward to tame than cattle, so consider the loading and unloading phases more than the hauling phase.
Most horse trailers are about 7½ feet high inside so height is never an issue. Some more expensive trailers have air conditioning units in the ceiling area which makes them even higher.
The width of the interior space is critical, although cattle like to be able to move forward as well. Most livestock operators tend to remove the central partition that most horse trailers have to allow the wider-bodied cows to fit inside.
The space inside the trailer should allow the cow to turn around or move forward. Horseboxes usually have closed fronts which cattle don't like as they like to see far in front of them.
These comments from Tractor By Net are helpful:
Shaneard suggests using a 2 horse trailer and cut the center out in order for cows to turn around.
Aczlan suggests that it should be fine, as long as it opens properly.
Lucky llama states that he's done it plenty of times by simply removing the center divider.
KYErik has done it several times, but just 1 cow at a time.
SanburRanch provided the best advice by suggesting that the ramp angles of a horse trailer make loading more difficult. They stated that cows need to see in front, yet most horse trailers are blocked in. They close by recommending you allow your cattle to venture into your trailer for feed for several days before hauling to help them become used to the environment.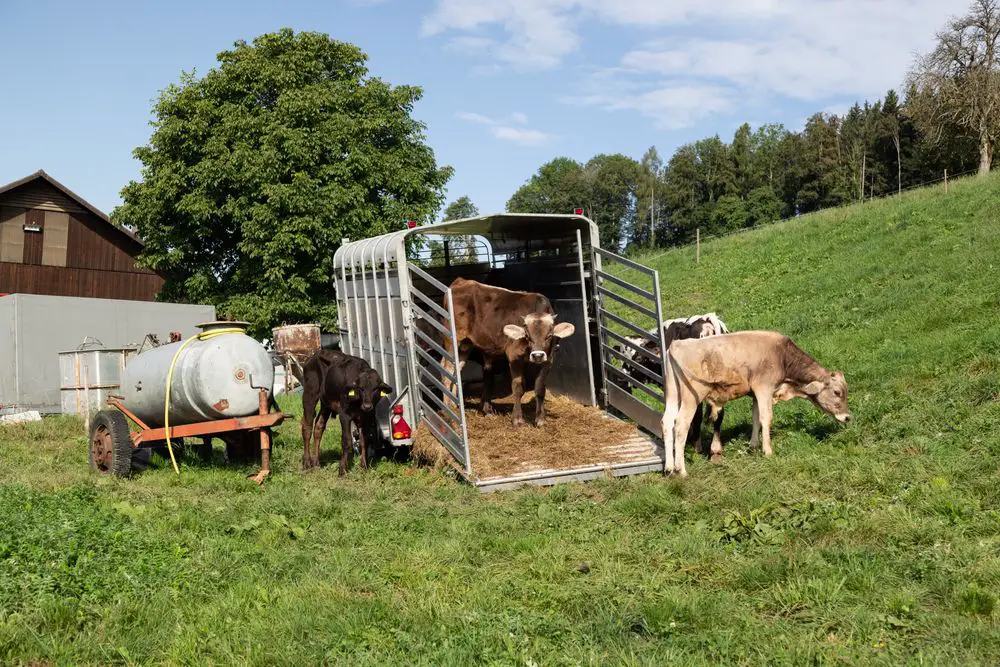 How To Look After A Livestock Trailer
Hauling livestock is a messy process that often leads to trailers rusting out much earlier than expected. Follow these tips to keep your livestock trailer going beyond 10 years.
Washing
Use a hose instead of a pressure washer on your trailer and wash the whole of the trailer, including the roof and the underside. Removing the encrusted mixture of mud, oil, and manure on the axle and trailer bottom will be the most time-consuming part of your cleaning ritual.
Keeping the trailer inside clean and hygienic will prevent unnecessary veterinary bills due to cattle getting sick from trailer-borne infections.
Park your trailer on a slope or jack it up, so the back doors are angled down. The slight tilt allows any water to fall back out of the trailer while washing it. Leave the windows and doors open for 2-3 days after cleaning to avoid mold build-up.
Remove any rust with sandpaper and then apply rustproof paint. Aluminum livestock trailers are the best choice if you want a rust-free body that'll serve your farm for years to come.
Tires
Under-inflated tires wear faster and cause the vehicle to sway when transporting heavier loads.
Tread must be at least 2/23 inches deep. Use the "Abraham Lincoln" test to check the tread is legal. Place a one-cent coin edgeway in the tread; if it covers part of Abe's head, the depth is good.
You should replace all four tires at the same time if your budget permits
Grease
Grease the ball hitch, the tongue jack, the ramp hinges, and the tongue jack regularly and before a long trip.
Lighting
You want to make sure all the lights work on your trailer. This job is much easier with two people: one sitting in the cab switching on and off and the other checking they are functioning correctly. Ensure you check with all the lights on at once.
FAQs
How Long Can a Cow Stay in a Trailer?
The shorter, the better. A cow in a trailer loses six percent of its body weight in water after 10 hours. If you keep it in one for over 24 hours, it will also start to lose tissue weight and become restless.
Which cattle need special trailers?
Young calves, cow-and-calf combinations, pregnant females, horned and dehorned animals, and bulls will need special features or attachments if you haul them. This is especially true if you haul the infamous Watusi cattle who have massive horns. Brackets can be used to keep a cow positioned in the middle to avoid a trailer swaying.
What kind of warranty can I expect when I buy a trailer?
Livestock trailer warranties vary hugely in length – from 1 to 20 years! Check with your dealer to see all the available options and limitations. Some may not provide warranties for commercial use.