It costs anywhere between $800 up to $3,000 to purchase a single milking cow. The price gap is due to breed, location, age and expected milk volumes over time. If you require daily milk for your family, then the initial outlay can be recouped over 2 to 3 years.
When it comes to buying a family milk cow, we usually only consider the price of the cow, which is the actual amount of money you pay for her. However, there's much more than that, and the whole project could go down the drain if you don't account for everything. But you don't want that!
This post explores the cost of buying a dairy cow and other involved costs you must be aware of. We'll also give a verdict on whether or not buying and raising a family cow is worth the effort. 
How Much Is A Dairy Cow?
A family milk cow costs $800-$3,000 to buy. The price gap here is quite huge, and several factors come into play in determining the cost. 
You can think of the cost of a homestead dairy cow in three ways:
The buying price of the cow herself and transporting her home
The cost of setting up your homestead to make it ready to receive the cow
The cost of raising the cow once she is on your family farm.
Factors That Determine The Cost Of A Family Milk Cow
The amount of money you'll pay for a milk cow depends on the following factors. 
1. Your Location Vs. Cattle Population
If you live in dairy country where farmers raise many cows, the price of a cow will be lower than for a person living in an area where dairy cows are scarce. 
Your location also influences the overall cost in that if it's far, you'll have to transport your cow—which adds to the cost, especially if you have to hire a truck, trailer or horse float.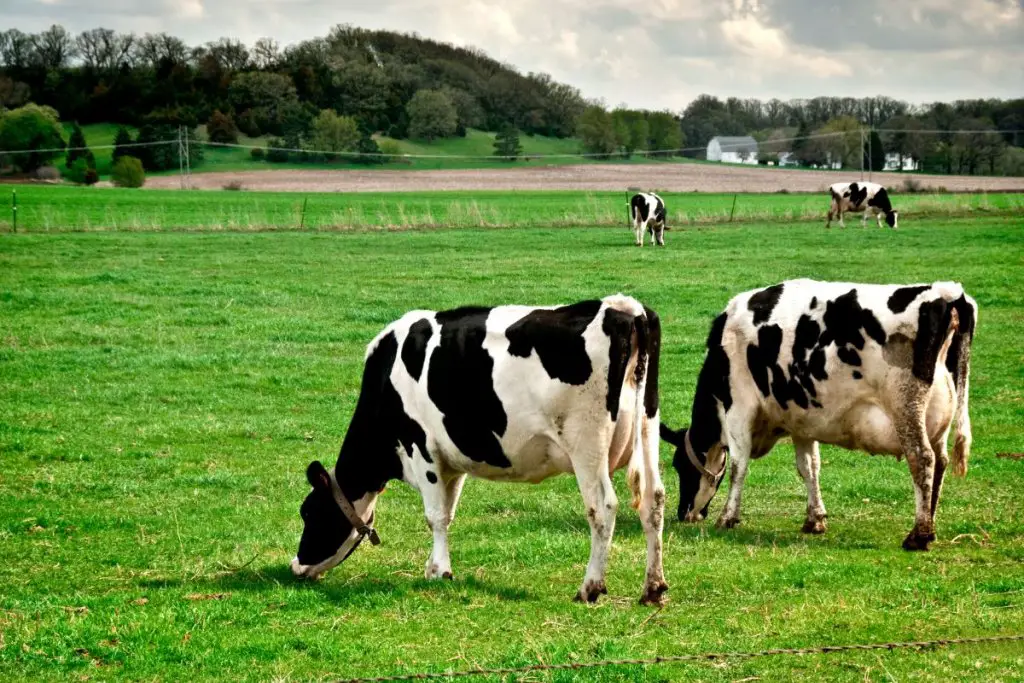 Also, a hand-raised cow from a small farm will cost more than a cow from a large farm.
A hand-raised cow typically:
Has more contact with humans and is gentle
Is nice to spend time with
Can be easier to milk
Has excellent mothering instincts. 
Large dairy cattle farms usually practice culling by selling off cows when their commercial milk production ability dwindles at 5-7 years of age. 
The cows are sold to smaller farms or slaughterhouses. A lower commercial milk yield doesn't mean the cow won't be useful to your family—most families need only 2-5 gallons of milk per day. 
2. The Breed Of The Cow
You can choose from several dairy cow breeds such as:
Holstein
Jersey
Guernsey
Brown Swiss
Milking Shorthorn
Milking Devon. 
There's no hard and fast rule about pricing different cow breeds, but there will be differences in costs. 
For example, a Holstein cow will cost more because she is a heavy milker. The average price for a Jersey cow is $900-$1,300, given that Jersey cows are smaller and the amount of milk they produce is lower than that of Holsteins. 
If you buy a breed that is "unusual" in your area, you can expect to spend more than the cost of a common breed. 
3. Age
While the lifespan of a cow is 20-25 years, only 11-12 years of those will be milking years. Most cows produce milk beyond 12 years, but production generally declines or plateaus after the eighth year. 
A cow that's three years or older will cost more because she is still in her early productivity years and already has some experience being a milk cow. You'll also pay more for a cow with several calvings than a first-time calving heifer.
4. Structural Soundness Of The Cow
You'll want a cow with a well-formed and supported udder that's above the hocks. Each teat should be long enough to be clasped by hand or fit the teat cups of your milking machine. 
A cow with such desirable characteristics will cost you an arm and a leg. Then to go a step further, a registered dairy cow always costs more than an unregistered one. 
5. In-calf Vs. Not Pregnant
If a cow is in-calf, she will cost more than another that isn't pregnant, especially if the pregnancy was achieved through artificial insemination. The more advanced the pregnancy is, the more the cow will cost. 
6. Dry Cow Vs. Lactating Cow
A cow produces milk for ten months per lactation period spanning one year, meaning that she can give birth once each year under the right conditions. 
A dry cow costs less than a lactating one, especially if she has been dried off for reasons other than having an advanced pregnancy that's due in about two months. 
Cost Of Getting Ready For A Family Cow
It's not advisable to buy a family milk cow if you haven't first set up your small farm to receive her. You should never buy a cow before you are ready for her. 
The main farm setup costs will be land, fodder/feed, shelter, a milking machine, and beddings. You probably have land available (preferably fenced), and you can establish pasture on it or other fodder like alfalfa. 
The cost of these items can vary significantly from one small farm to another. You'll probably be ready to go if you already have a dairy herd.
Cost Of Raising A Family Dairy Cow
The cost of raising a homestead dairy cow varies from farm to farm and ranges between $1,000 and $2,000 per year, depending on veterinary, bedding, and feed costs. 
Feed costs will vary. If you have land of about 1.5 and 2.0 acres, you can sustain the cow with a grass diet only, but for less milk. 
Dairy farmers looking for more milk can offer their cow supplements, hay, and grains. Mineral salts are also necessary for all cows. 
Hay will cost you about $150 per ton, while grain costs about $15 for a 50-pound bag. Veterinary services will cost you about $120 annually for breeding and treatment unless your cow has a severe condition. 
The Underestimated "Non-monetary" Cost
We often underestimate how much time is required to raise a homestead cow successfully. From feeding to milking to keeping the barn clean, you must dedicate plenty of time to your cow.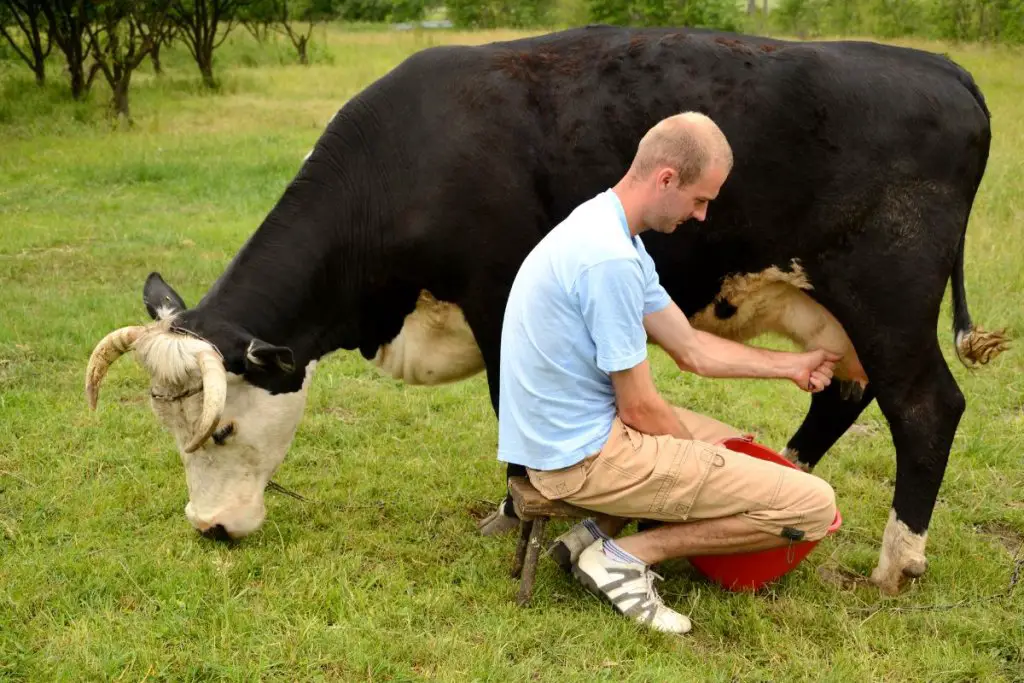 The time spent caring for a cow may seem like it has no price, but it can cost a lot. This is time you could dedicate to other activities, which could even earn you more than hand-raising a cow. 
Is It Worth It Buying And Raising A Family Milk Cow?
Now that you know how much a dairy cow costs and the consequent costs, is it worth buying and raising one?
The verdict: It's worth it to buy and raise a family milk cow. However, this doesn't always seem the case because players in the dairy industry tend to associate worthiness with monetary gain only. 
Monetary Worthiness Of A Dairy Cow
A dairy cow can repay herself in about one year, depending on her productivity. The main monetary benefits include:
Money savings: You save money when you don't have to buy milk and other dairy products from farms or supermarkets. Milk from your dairy animals can be used to make ice cream, yogurt, and cheese at home.
You also save money when you use her manure to grow your own organic crops.
Manure sales (depends on your state)
Milk sales (if your state allows you to sell raw milk). You can even set your own milk price depending on the demand and supply in your area. 
Money realized from the sale of dairy calves or beef bulls. 
Priceless Benefits Of A Family Cow
There are some benefits you can't attach a price to, including:
The learning process that molds you into a better farmer each day
The enjoyment and fulfillment that comes from seeing your cow grow healthy and produce calves and high-quality milk.
Raising your own healthy dairy products
The therapeutic effect that comes from bonding with your cow.
Buying and raising a family milk cow is a long-term investment that's worth it despite the high capital requirement of setting up the farm, purchasing the cow, and raising her. 
If you are in it for the long term, you are in for good tidings. Welcome aboard!